Mindanao Microfinance Conference 2017
Posted on January 12, 2017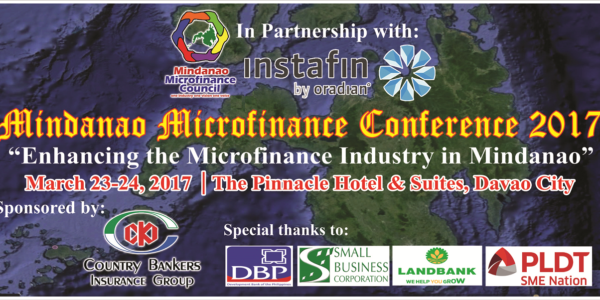 Event Start Date:
March 23, 2017
Event End Date:
March 24, 2017
Event Venue:
The Pinnacle Hotel & Suites, Sta. Ana Ave., Davao City
"Enhancing the Microfinance Industry in Mindanao"
The Mindanao Microfinance Council cordially invites microfinance practitioners, government agencies and other stakeholders to attend the Mindanao Microfinance Conference 2017 with the theme: "Enhancing the Microfinance Industry in Mindanao" to be held on March 23-24, 2017 at The Pinnacle Hotel & Suites, Sta. Ana Ave., Davao City.
Topics for discussion on this conference will be as follows:
> "The Role of MFIs on Pondo sa Pagbabago at Pag-asenso (P3) program"
> "LBP's Program on Empowering Barangays in Remote Areas through Credit and Enterprise (EMBRACE)"
> "SEC's Priority Programs in Support for MFIs and MSMEs"
> "Implementing Free Access to Irrigation System and other Current DA Programs for Farmers"
> "Partnership with MFIs for Grassroots Microfinance in Agrarian Reform Areas (GMFA)"
> "SEDPI Capital: Sustainable Investment Fund for MFI Wholesale Loan"
> "Ateneo Microfinance Capacity Building Program (ADMU-MCBP)"
> "Updates on the Imposition of Microfinance NGO Act & Taxation of Coops & MFIs"
ROUNDTABLE DISCUSSION WITH MFIs IN MINDANAO
> Area Mapping of MFIs Operation in Mindanao;
> Concerns regarding Mergers and Closures of MFIs;
> Developing Agri-Microfinance of MFIs in Mindanao;
> Collaboration of MFIs in Mindanao to further improve the Microfinance Industry in the Region.
Please click on the following link to download the following documents:
> Program of Mindanao Microfinance Conference 2017