Microfinance Practitioners Summit 2016
Posted on August 5, 2016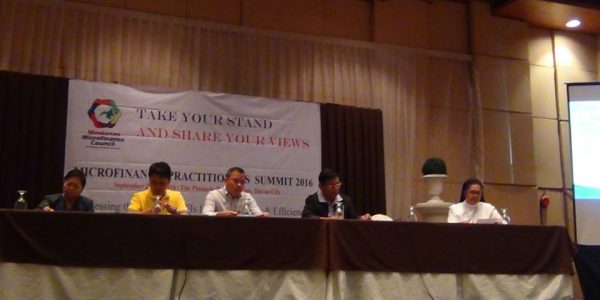 Event Start Date:
September 29, 2016
Event End Date:
September 30, 2016
Event Venue:
The Pinnacle Hotel & Suites, Davao City
MICROFINANCE PRACTITIONERS SUMMIT 2016
September 29-30, 2016
The Pinnacle Hotel & Suites, Sta. Ana Ave., Davao City
"Assessing the Needs of MFIs
for Sustainability and Efficiency"
The Mindanao Microfinance Council (MMC), Inc. had organized the Microfinance Practitioners Summit 2016 held last September 29-30, 2016 at the Pinnacle Hotel & Suites, Sta. Ana Ave., Davao City, with the theme: "Assessing the Needs of MFIs for Sustainability and Efficiency".
The summit was a gathering of microfinance practitioners in the Philippines to discuss and resolve current problems, issues and concerns, which are significantly been encountered by microfinance institutions in their respective operations.
Topics of discussion during the summit were as follows:
1.) Establishing Partnerships between MFIs and Government Agencies
2.) The Role of MFIs in Support for National Strategy for Financial Inclusion
3.) Understanding the Costs & Benefits of a Centralized Credit Information System
4.) Forum on IRR of Republic Act No. 10693 (Microfinance NGOs Act)
Panel Discussion per Type of Institution
 Current Problems Encountered in Microfinance Operation;
 Needs Assessment of MFIs in terms of capacity building, funding, government policies, etc.;
 Issues & Concerns on the State of Microfinance in the Philippines;
5.) Round Table Discussion and Group Reporting per Type of Institution
 Proposed Actions to be Taken by MFIs, Government, Microfinance Associations & Other Stakeholders to Resolve the Identified Problems.
6.) Impact Assessment of Microfinance in Improving Livelihoods of Farmers & Fisher Folk
7.) Microfinance, Financial Inclusion and Financial Development: An Empirical Investigation with an International Perspective
8.) Flow of Deposits in the Mindanao Banking System: Exploring Alternatives