Leadership Skills Training for Managers in Butuan City
Posted on May 8, 2018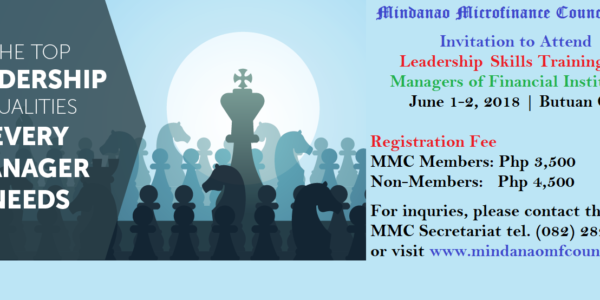 Event Start Date:
June 1, 2018
Event End Date:
June 2, 2018
Event Venue:
Amaris Suites, Butuan City
INVITATION TO ATTEND LEADERSHIP SKILLS TRAINING FOR MANAGERS & SUPERVISORS
The Mindanao Microfinance Council cordially invites microfinance practitioners and other financial institutions to attend a 2-day "Leadership Skills Training for Managers & Supervisors on June 1-2, 2018 at Rosario's Chinese Seafood Restaurant (beside Amaris Suites), Jose Rosales Ave., Butuan City.
This training aims to develop on:
 Strengthening Managers/Supervisors' decision-making, coaching and conflict-resolution abilities;
 Cultivating Managers/Supervisors' unique leadership style;
 Improving Managers/Supervisors' for giving and receiving feedback.
The resource person for this training will be Mr. Erwin Idong, former Head of Treasury Group of People's Credit and Finance Corporation (PCFC), who likewise handles PCFC's Finance Management Department, Program Management Department and Training Department.
REGISTRATION FEE: (Inclusive of kits, snacks and lunch during the 2-day training)
Please take note that registration fee does not include hotel accommodation.
For MMC Members Php 3,500 per Participant
For Non-Members Php 4,500 per participant
DEADLINE OF REGISTRATION: May 25, 2018
Please click here to download Confirmation Sheet.
We would greatly appreciate if you can send us your confirmation sheet with scan copy of the deposit slip through email on or before May 25, 2018.
For inquiries, please contact +63 (082) 282-4282 / 0977-8303852 or you may send us an email at mindanaomfcouncil@gmail.com.
Thank you.